What do construction managers stand to gain from digitising their workflows? How can this improve efficiency? This CPD, in association with Topcon Positioning GB, explains.
Advances in construction technology have important implications for site managers and construction companies looking to overcome the challenges facing the industry. A digital workflow can be the key to working more efficiently and mitigating the impact of skill shortages, tightening sustainability requirements and shrinking margins.

Switching to a digital workflow can seem a big undertaking, but there are a number of reasons why this solution can be the foundation of a more productive and efficient way of working.
The advantages of digital workflows start at the planning stage, where they offer opportunities for easy and efficient collaboration, whether colleagues are working from a job site, the office or even from home. Tools such as Topcon's MAGNET software suite host digital plans and designs in the cloud, allowing collaborative working and sharing of information from multiple locations instantly.
This collaborative digital workflow gives everyone oversight of how the project is developing, where budget is being allocated, and allows anyone to interject with their expertise at a particular stage. Digital plans can also be shared and published in easy and understandable formats when it's time to submit them to the relevant authorities. Many systems also allow sharing of a live plan which evolves as the design process continues.
Once work begins, sites are dynamic and ever-changing, which makes it difficult to keep everyone singing from the same hymn sheet, especially when last-minute changes or problems arise. This is where digital workflows can change the game. Digital site management software gives managers a comprehensive and up-to-date view of the entire site, even when working remotely.
Platforms such as Sitelink3D v2 from Topcon display data gathered from all machines and connected workers at a site to build an accurate picture of all the activities taking place. They also host design files that allow managers to ensure that everything is going to plan. Project data is collected and stored automatically, ensuring that decision-makers are in possession of all the facts and can act faster.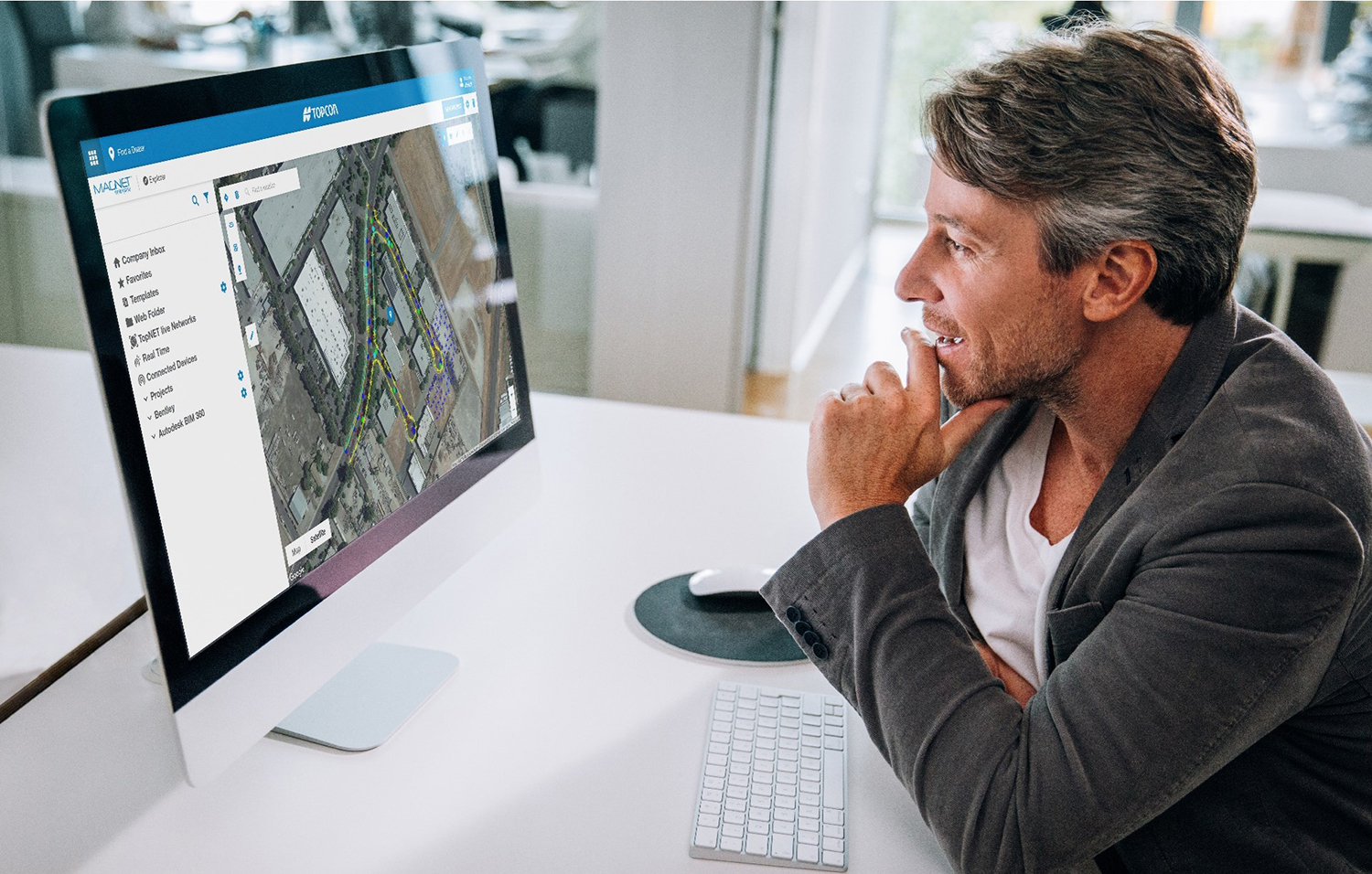 When plans change, the new designs can be synchronised across the entire site, with each operator's view showing exactly what the changes mean for their tasks. This means that work needn't stop while managers travel from the office to the site, or operators are rebriefed on the new job.
For equipment fitted with machine control technology, the whole process can be managed remotely, with machines working independently to the latest designs. Operators receive real-time, dynamic, on-screen bucket location and design views, improving accuracy and removing the need for someone to check the grade from the trench.
In the context of rising material and fuel costs, margins are tightening, and construction managers are on the lookout for ways to do more with less. A key advantage of digital workflows is the increased efficiency offered by being able to easily and consistently manage everything happening on site. Digital site management boosts efficiency by ensuring work is completely accurate first time around.
By constantly sharing up-to-date plans with everyone working on site, accuracy is never compromised by sudden changes or updates to work schedules, or the extent or type of work to be completed. When used in conjunction with machine control software, human error can be all but eliminated, and remote monitoring means mistakes can be nipped in the bud when they do occur. Fewer mistakes mean less rework is needed, and less wastage of time, money and materials.
However, there will always be issues that cannot be foreseen or those which construction managers are powerless to prevent. Here, digital workflows afford projects a crucial element of flexibility that allows managers to move quickly and mitigate the impact of outside factors. For example, if a delayed delivery means that work can't be completed at a certain time, manpower, machines and resources can be quickly redirected to different jobs and work schedules updated immediately to minimise disruption.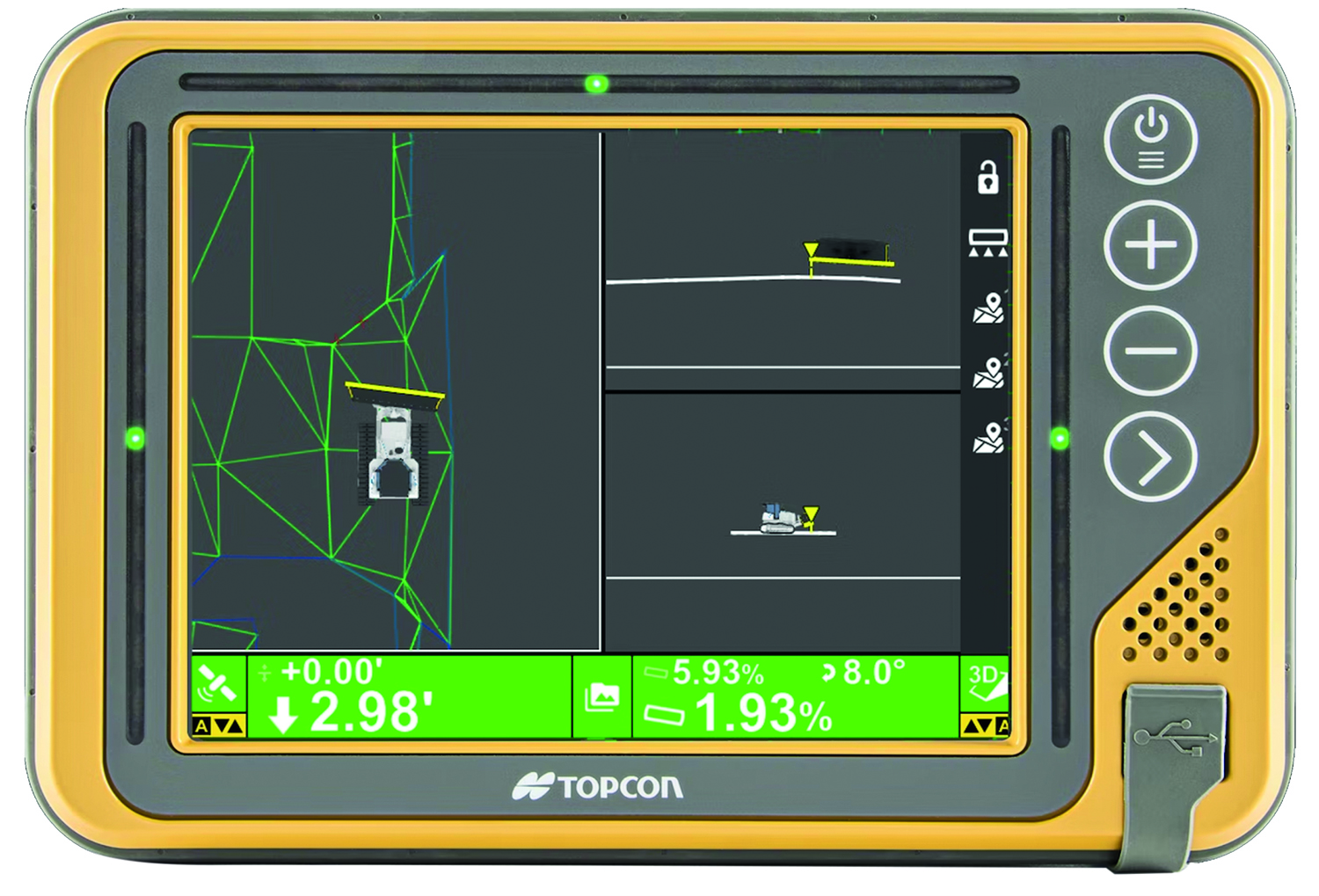 Topcon Pavelink is a specific example of an end-to-end digital workflow that's helping paving businesses work faster and more efficiently. On asphalt paving projects, it's crucial that the work is done quickly to ensure road closures are brief and materials wastage avoided. The platform connects cutting-edge scanning and design technology through machine control hardware on milling and paving machines to prevent delays and deliver improved accuracy.
Pavelink also offers the ability to communicate with batching plants and track truck locations and paver data in real time, ensuring that operators aren't left sitting on their hands while they wait for a delivery and that, when they are working, it's with accuracy and efficiency.
With transit, loading and wait times also displayed on the dashboard, construction managers can hunt down inefficiencies in all the extra work that goes into a project. All of these features are individually valuable but when brought together in one application for convenience this technology has the ability to transform workflows.
Construction must lead change
Building green is a serious concern for the built environment and will remain so for the foreseeable future. If the UK is to hit its target of net zero by 2050, as one of its most polluting industries, construction will have to be a leader of this change. For construction managers and contractors, this means leaving no stone unturned when it comes to cutting emissions, and digital workflows can be a valuable tool in the search for savings in new areas.
Many emissions reductions come hand in hand with the increased efficiency that can be attained with digital workflow platforms. Getting more work done with fewer materials keeps the emissions toll of a project as low as possible. Likewise, eliminating the need for rework also removes the emissions produced by the machine movements needed to complete the work.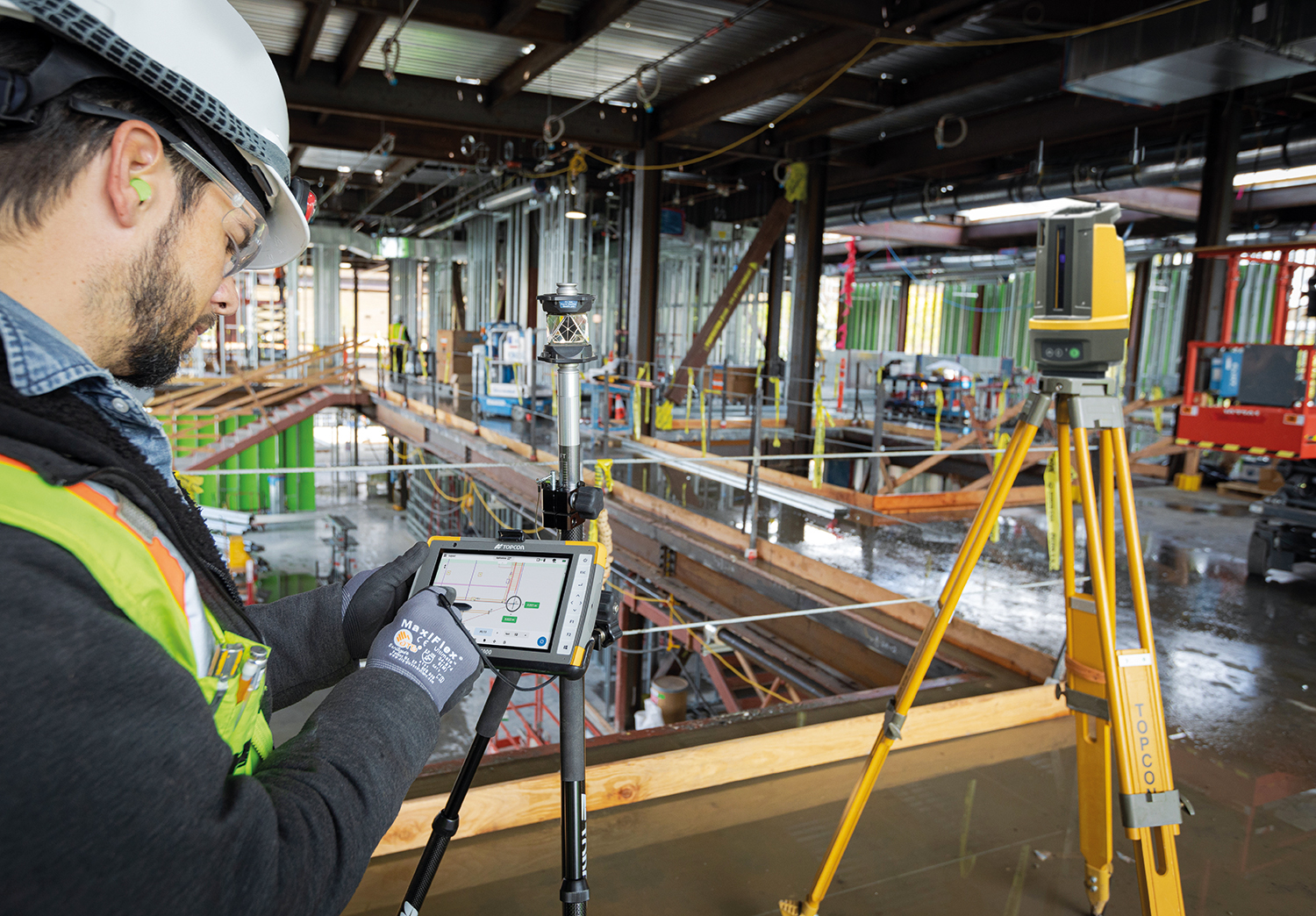 Being able to point to a more efficient, and therefore more sustainable, workflow will be invaluable for construction companies looking to stand out from the crowd when working on winning contracts with strict sustainability requirements.
Complete connectivity can also have a powerful impact. Being able to monitor and direct what happens on site remotely vastly reduces the number of journeys that site managers have to take and eliminates the emissions they're producing in the process.
Desktop sharing functions
Many platforms, including Sitelink3D v2, also offer features which make getting a second opinion much easier and better for the environment. Desktop sharing functions allow live views to be shared with experts from outside the project wherever they are, again cutting down on journeys to and from work sites. Less travelling (and fewer machine movements) also translates into fuel savings which have a positive impact on a company's bottom line, as well as its carbon footprint.
When viewed in isolation, these individual emissions savings might seem small compared to the carbon footprint of the built environment as a whole. However, over time, these small savings have a significant impact in helping to lower the footprint of the construction industry.
Importantly, while other measures to make projects more sustainable, such as pivoting to use new materials or bringing in electric vehicles, can be slow, switching to a digital workflow is something that construction companies can implement now, with the knowledge that it will have an immediate impact on their carbon footprint.
Construction companies everywhere are struggling to get the people they need for the job. Experienced team members are reaching the end of their careers and a lack of talent coming through at the other end leaves the industry in a difficult position.
Digital workflows can help by enabling technology, such as machine control, to work at its best. With platforms that send updated plans to machine control systems, operators can complete complex work without needing constant input from supervisors.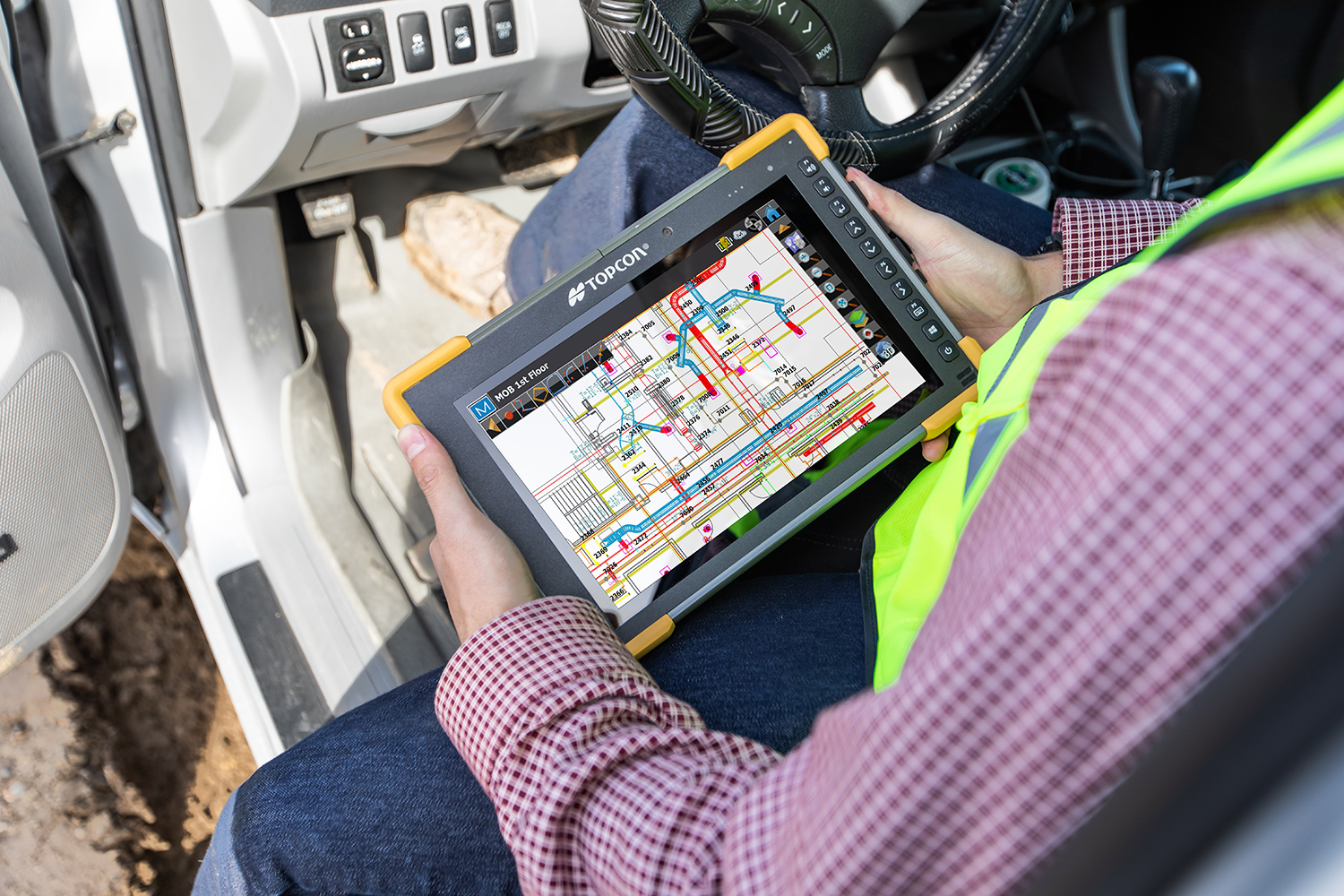 They're also able to move on quickly should plans change, with an updated plan for their new task. With a consolidated view of everything happening provided by site management platforms, fewer supervisors are needed to monitor individual parameters or processes, freeing more experienced workers up to concentrate on other tasks.
When it comes to attracting the best talent in a competitive market, companies that embrace a digital way of working give themselves an important advantage. Greater use of technology is undoubtedly the way forward for construction, and offering the chance to gain experience on digital solutions will not only attract new recruits looking for somewhere to start their career, but ensure they remain technologically capable of embracing future innovations when they come along.
Making the transition to digital workflows can be transformational for how a company's sites work and communicate, but it doesn't have to involve an arduous learning curve, or a large upfront investment.
Many manufacturers offer ongoing support to firms with installation and throughout their time using the system. This is intended to help them achieve that return on investment by using the technology how it was intended. It also enables companies to best understand how it works with their existing structures and tailor it to their needs. From a cost perspective, some systems are available to rent, meaning there's no need for businesses to pay for a system on one project that they won't use for others.
For construction companies navigating a tricky working environment, there's plenty to be gained from making their workflows digital. The latest platforms are powerful and intuitive paths to unlocking the benefits of a more efficient, sustainable digital future for construction.
Information in this CPD was correct at the date of publication.