CPD: Bespoke aluminium access structures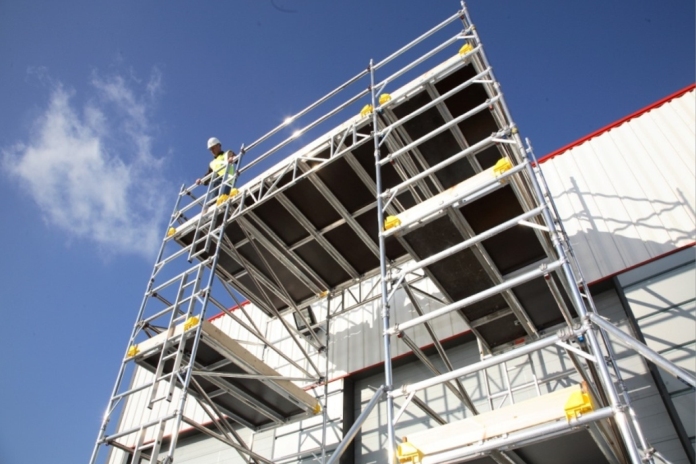 You can do more with aluminium access towers than you think. It's even possible to commission a bespoke structure designed for your site – however tall, wide or awkward it may be. But do you know the key safety considerations? This CPD, in partnership with the Prefabricated Access Suppliers' and Manufacturers' Association (PASMA), explains.
Ask most people to imagine an aluminium access tower and they'll think of something that comes in a kit with an instruction manual. What they might not know is there are individuals qualified to mix those kits together and build something totally bespoke. It's a service that offers big benefits for savvy construction managers who need to give their teams a safe way of working at height, even when budgets and deadlines are tight.
The capabilities of aluminium towers
These days, there's a whole range of standard towers available – mobile access towers, cantilever towers, towers with bridges, linked towers, towers on stairways and large deck towers.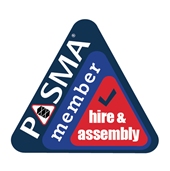 If none of those suit the requirements, a bespoke tower can be designed for a site, however tall, wide or awkward it may be. A standard tower allows workers to operate at up to 8m outdoors and 12m indoors, but these restrictions don't apply here.
Access tower specialists can build any type of tower, standard or non-standard. But while there are dedicated training courses available for each type of standard tower, meaning any worker can be trained to build the tower they need, bespoke towers can only be planned and assembled by a qualified access tower specialist.
With clever engineering and prefabricated aluminium components, they build structures that can reach the top of a building, with platforms at every level along the way, and span the whole façade too. They can create large deck areas or squeeze into tight spaces.
They can set towers up on stairwells and add advanced features like cantilever frames over obstacles, bridges to span doorways or beams for working above swimming pools. Their structures are adaptable and can be mobile. In short, access towers are as flexible as the client needs them to be.
When you're looking for a company to install a complex tower structure for you, the service you need is known as 'hire & assembly'. It includes:
Equipment rental
Consultation
Specification
Design
Assembly
Dismantling
There are many advantages of choosing aluminium towers:
Quick to build and dismantle – suiting tight timescales
Lightweight – essential when the floor/ground can't hold steel or powered access
Low carbon footprint – it travels in a transit van, not a 10-tonne truck
Aesthetically pleasing – shiny aluminium looks good in high-profile locations
Flexible – gets into awkward spaces
Collective fall prevention at all times – no harnesses required
Competitively priced
All of this makes aluminium a safe, convenient, cost-effective and environmentally friendly solution for almost every job, with one main exception. If heavy materials need to be stored or moved on the platforms, an aluminium structure might not take the load, in which case, steel is more suitable.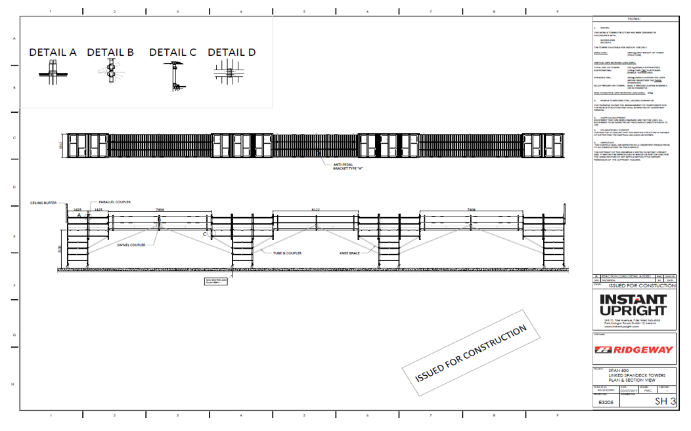 Case study: 22 Bishopsgate, London
A project by Ridgeway and Instant Upright for Multiplex
The challenge:
Tallest building in the City of London
Very busy construction site
Need access to ceiling at 28m in a façade atrium
Slab stops short of façade with 9m voids over 3 extended abutments
Multiple levels of escalators
Ongoing access required for mechanical and electrical services
Fast up and down solution needed
Detailed temporary works procedures
The solution:
Collaborate with manufacturer's engineering team
Create design using Building Information Modelling (BIM)
Mobile tower structure that can be moved in and out for ease of access to mechanical and electrical services
Use Spandecks and cantilevers to bridge 9m gaps
Use components from stock for fast turnaround
Service delivery:
Assemble central tower structures on abutments
Add cantilever platforms
Install Spandecks
Job completed 10 working days after initial enquiry
The first complex aluminium structure ever built was a 200ft (61m) tower commissioned by the US Army in 1948. Not long afterwards, they started appearing in the UK too. Here, the service can be traced back to the early days of tower production in the 1950s.
Over the decades, safety standards for working at height have continually improved, and access towers are no exception.
As the subject matter experts on towers, PASMA, a not-for-profit trade body, has a key role in driving up standards in hire & assembly. It encompasses two areas: good working practices and training for access tower specialists.
1. Good working practices
PASMA is a membership association which brings together members from across the tower industry, including manufacturers, hire centres and training companies, with one thing in common – a commitment to raising tower safety standards.
In 2010, it launched a dedicated membership category for companies who install complex tower structures, known as Hire & Assembly Members.
For the first time, a light was shone on the working practices of the sector. A code of conduct was established, setting out what safety standards should be expected from these companies.
PASMA encourages all businesses involved in erecting non-standard towers to adopt its standards and become Hire & Assembly Members. Those who do are assessed prior to joining and receive annual audits, allowing them to prove their ongoing commitment to safe working practices. For each build, they collaborate with tower manufacturers to prepare the necessary paperwork:
Design drawing
Design certificate with calculations and component schedule
Verification report
Assembly, use and dismantling plan
Risk assessment
Method statement
Information on safe use to be displayed at the base of the tower
They must use safe equipment, which is achieved by ensuring every structure complies with either BS EN 1004 (the standard for mobile access towers) or BS 1139-6 (the standard for towers which use prefabricated components in advanced configurations).
Another important requirement is that they must have a competent workforce. They achieve this by employing access tower specialists who have been trained by PASMA.
From the archives: 24.6m aluminium structure at the London Central Mosque in the 1980s supplied and assembled by Stephens & Carter
2. Training for Access Tower Specialists
An access tower specialist's job is to assemble towers. This includes any standard configuration tower, like mobile access towers, cantilever towers, towers on stairways, linked towers and towers with bridges. But crucially, they can also build bespoke, complex structures from design drawings, created to meet the unique needs of a site. They must be capable of leading the project from start to finish:
Plan the build
Select safe equipment
Read design drawings
Assemble and dismantle
Make engineer-approved alterations
Tie structures into buildings
Inspect towers
Lead teams effectively
Conduct safe handovers
For many years, Access Tower Specialists learned on the job. It's what they did all day every day, so experience soon built up. But with no nationwide training scheme, the knowledge being handed down wasn't consistent, comprehensive or assessed. There was no reliable way to verify competence.
These days, that's not an option on most construction sites. Managers need to be certain that everyone on their project is skilled and qualified to do their job.
PASMA developed its demanding Access Tower Specialist training scheme for this very reason. It introduced formal training and assessment to a previously unregulated role and has raised standards as well as creating a way to demonstrate competence.
This is how experienced tower operatives in today's world learn the advanced skills they need to work with bespoke structures safely.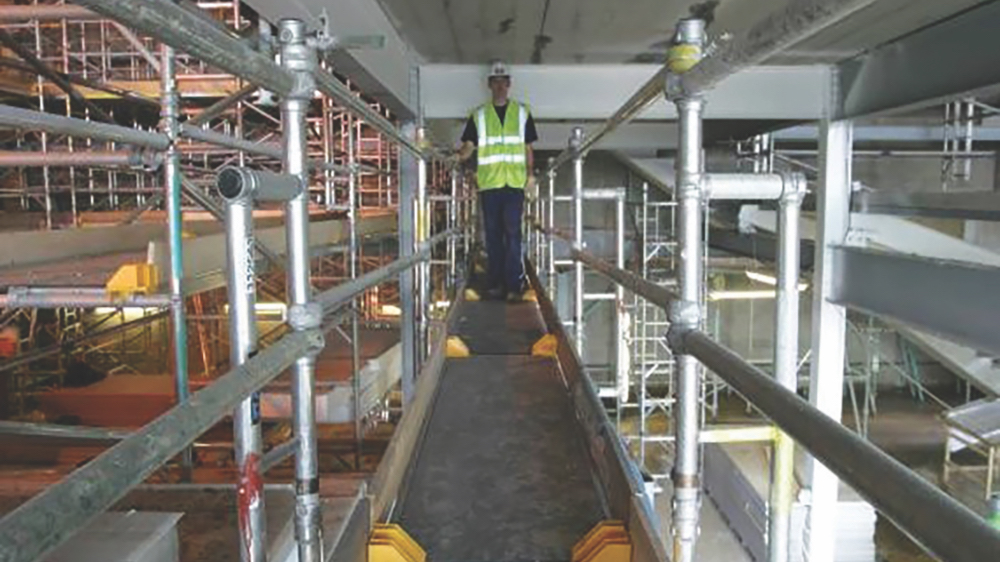 Delegates leave with an in-depth understanding of the most relevant product standards and work at height legislation/regulations, as well as technical knowledge of design constraints, loading criteria, enabling components, component lifting techniques, tying in, design drawings, hazard identification and safe assembly techniques.
Bespoke towers can go wide and they can go high. They can go around, over and under obstacles, give access to multiple levels, provide large deck areas and be adapted to meet evolving requirements. They can also remain in place long term if needed.
Doing all of this with lightweight, prefabricated aluminium components requires specialist skills which are taught exclusively by PASMA in the Access Tower Specialist course.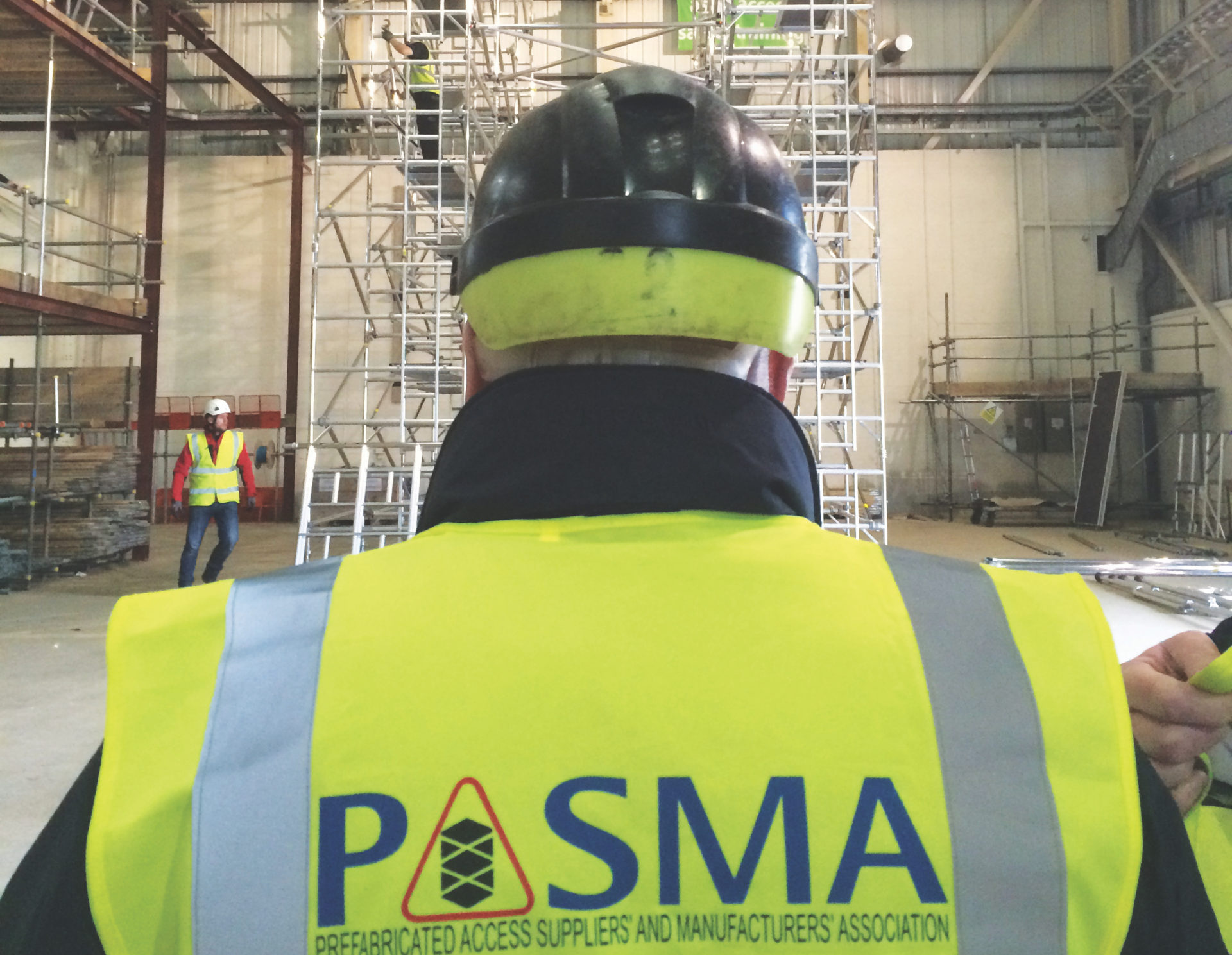 Choosing a supplier: action points
Consider aluminium for your next work at height project
Update your access tower procurement policies to specify PASMA members only
Update your site access policies to permit entry to PASMA-trained Access Tower Specialists
This article has been created by Construction Manager in partnership with Prefabricated Access Suppliers' and Manufacturers' Association (PASMA)