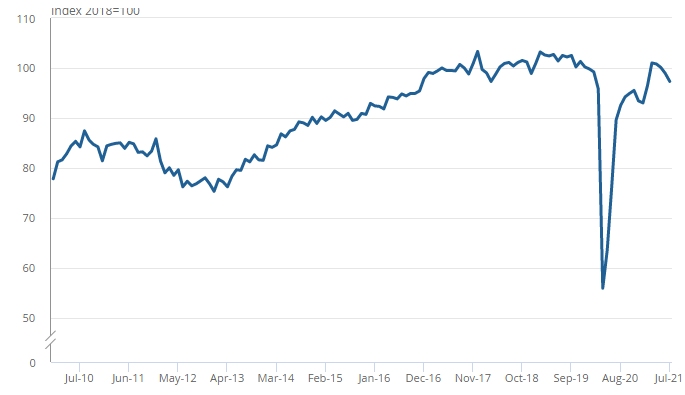 Construction output fell by 1.6% in July 2021, with anecdotal evidence suggesting that price increases and product shortages caused by supply chain issues were the main reasons behind the declines, according to official figures.
The Office for National Statistics (ONS) said the fall meant that output was now below its pre-coronavirus pandemic February 2020 level.
New work and repair and maintenance both contributed to the decline. New work dropped to 3.2% below the February 2020 level, while repair and maintenance was 0.6% above the February 2020 level.
The ONS said the recovery in the sector was mixed, with infrastructure the best-performing sector over the pandemic at 35.7% above its February 2020 level. Private commercial was the worst-performing sector during the pandemic at 20.3% below the February 2020 level in July 2021.
The decline in monthly output in volume terms in July 2021 came mainly from private housing, which saw falls in both new work, and repair and maintenance of 7.5% and 6.2% respectively. This was driven by the impact of price increases likely caused by product shortages in the sector.
Construction output fell by 0.6% in volume terms in the three months to July 2021, the first three-monthly drop since February 2021, driven by a fall in repair and maintenance of 2.9%.
The decline in repair and maintenance in the three months to July 2021 was mainly due to a fall in private housing repair and maintenance, of 8.3%.
New work increased 0.7% in the three months to July 2021: the largest contributors to this growth were infrastructure and private industrial, which grew by 17.5% and 8.2% respectively.
Commenting on the figures, Hew Edgar, associate director – policy, at the Chartered Institute of Building (CIOB), said: "Today's figures from the ONS are not unexpected. These are indicative of the continuing problems the industry is facing in materials and skills shortages. The high demand of materials coupled with issues of short supply and lack of transport for goods is a global issue that will take some time to resolve.
"For construction to keep moving, it must be adaptable, and clients should be having discussions with their supply chain on how best to manoeuvre around the challenges we are experiencing. We are glad to see that respondents from IHS Markit are rightly optimistic about the year ahead, but CIOB remains wary of the effects of any future lockdowns on the economic recovery and our ability to build back better."
Register for free and continue reading
This is not a first step towards a paywall. We need readers to register with us to help sustain creation of quality editorial content on Construction Management. Registering also means you can manage your own CPDs, comments, newsletter sign-ups and privacy settings. Thank you.