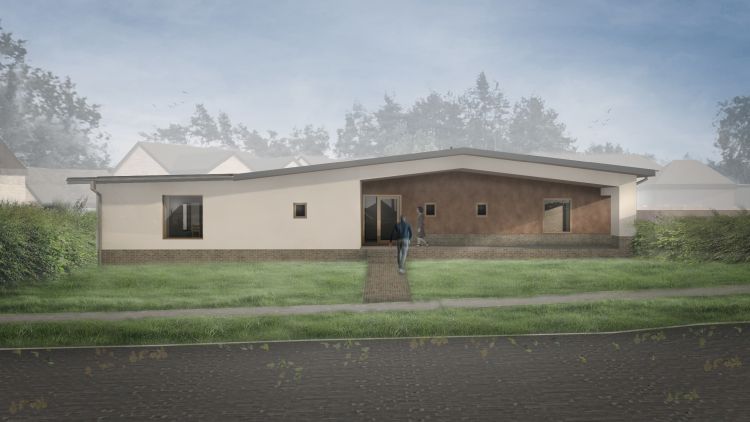 Construction has started on the first house in the UK to be built using a new type of cob building.
CobBauge is the first Building Regulations-compliant form of cob building. It is the result of a five-year, EU-funded research project into new, low-carbon methods of earth building.
The CobBauge system comprises a double-layered wall: the inner layer contains structural cob while the outer layer consists of insulating cob with hemp shivs. These materials contain different quantities of subsoil, water and straw or reeds. They are laid in formwork to dry as a monolithic construction material.
CobBauge has lower embodied energy, at 118MJ per sq m, compared with 651MJ for traditional bricks. Local clay is being used at Fakenham to further reduce embodied energy.
The CobBauge house will be topped with a shallow sedum-pitched roof, designed to reduce the impact of the building's volume.
Rendered CobBauge will sit on a reclaimed brick plinth that protects the building material from the ground. A covered entrance area will feature an unrendered CobBauge wall to reveal its construction.
The house will also feature large, south-facing triple-glazed windows for solar gain in winter.
Construction will not involve any concrete for the floor and renders, and woodfibre insulation will be used in the floors and roof.
An air source heat pump will provide space and water heating.
Register for free and continue reading
This is not a first step towards a paywall. We need readers to register with us to help sustain creation of quality editorial content on Construction Management. Registering also means you can manage your own CPDs, comments, newsletter sign-ups and privacy settings. Thank you.