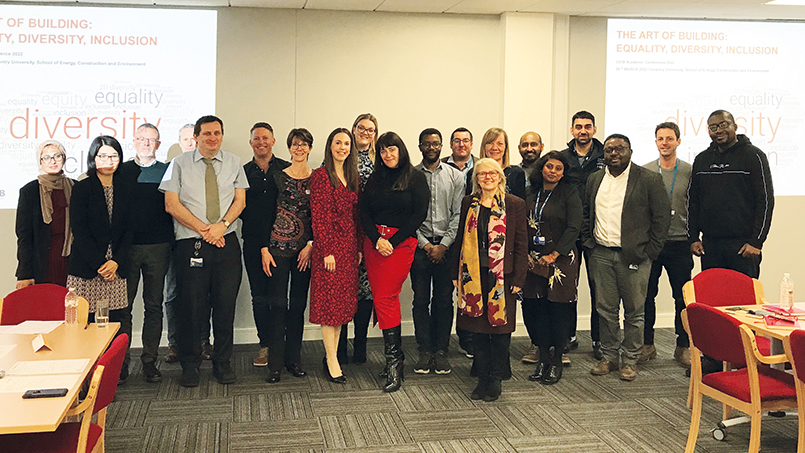 How to better engage young talent in the sector and incorporate equality, diversity and inclusion principles early in the careers of construction students was the topic of discussion at a recent CIOB event.  
CIOB Eastern & Midlands region held its second academic conference, The Art of Building: Equality, Diversity, Inclusion, following the success of the first Unconference at Coventry University.
Hosted by Sabine Coady Schaebitz, associate professor of architecture and curriculum lead for built environment, and organised by her team along with CIOB senior qualifications liaison manager Hassana Ahmed, the event focused on leadership around EDI.
"The event reinforced the importance of establishing EDI principles during the years students spend at university."
Sabine Coady Schaebitz, Coventry University
Stephen Austin, head of school of energy, construction and environment at Coventry University, welcomed attendees. Speakers included: Coady Schaebitz; Mark Harrison, CIOB head of equality, diversity and inclusion transformation; and Matthew Blackett, EDI Faculty Committee for Coventry University School of Energy Construction and Environment.
Joining them on a discussion panel were Imogen Smazanovich, associate director at Segro; Madeleine Clarke, winner of Women in Property, and a Coventry University student; and Rachel Curzon, Birmingham City University senior education developer.
Coady Schaebitz said: "The event reinforced the importance of establishing the EDI principles during the formative years students spend at university. This enables the next generations in their professions to influence industries in order to create a built environment which in turn contributes to a more equal and inclusive society."