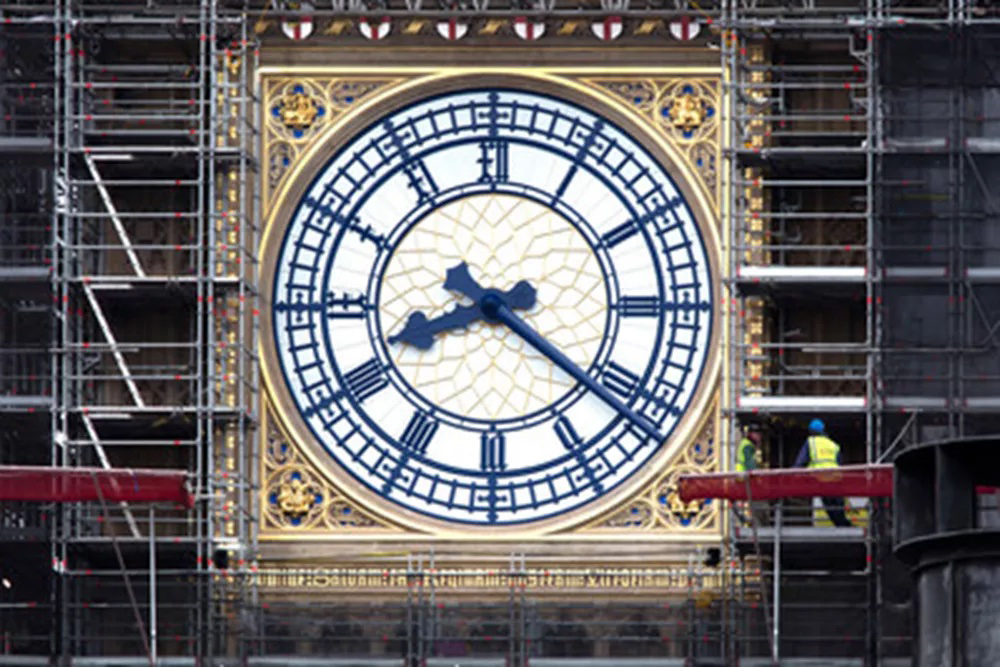 Sir Robert McAlpine is starting to remove the scaffolding from around Big Ben's dials, three-and-half years after the Elizabeth Tower restoration project began.
All four dials will be unveiled over the next six weeks, revealing the intricate conservation work that has taken place, including the restoration of the original Victorian colour scheme. By 31 December 2021, all four clock dials will be on display, in time for the country to welcome in 2022.
The coming New Year's Eve will mark the last time Big Ben is struck by the temporary striking mechanism, which has powered the hammer used to strike the bell during the restoration. More scaffolding, including the gantry, will be removed from the lower sections of the Tower in the early months of 2022, with the bells – including Big Ben – set to resume their regular striking again in the spring.
Important work is still underway inside the Tower, where expert clock mechanics are carrying out the delicate task of reinstalling the Great Clock's original Victorian mechanism, following restoration offsite.
To protect this historic piece of engineering during installation, only the East Dial, overlooking the River Thames, will be functioning in the immediate weeks after scaffolding has been removed. This is to prevent dust and debris causing harm to the mechanism, potentially affecting its ability to record the time correctly.
In January, the North and South Dials will also be functioning, with all four dials displaying the correct time as soon as crucial works have been completed inside the Tower in early 2022.
The removal of scaffolding and installation of the Great Clock represent two of the most significant stages in the entire restoration project, requiring great levels of skill and expertise – all delivered at a great height and within the confines of a busy working Parliament.
As well as McAlpine, the team also includes project manager Lendlease, cost consultant Currie & Brown, conservation architect Purcell and structural engineer Aecom.
Register for free and continue reading
This is not a first step towards a paywall. We need readers to register with us to help sustain creation of quality editorial content on Construction Management. Registering also means you can manage your own CPDs, comments, newsletter sign-ups and privacy settings. Thank you.