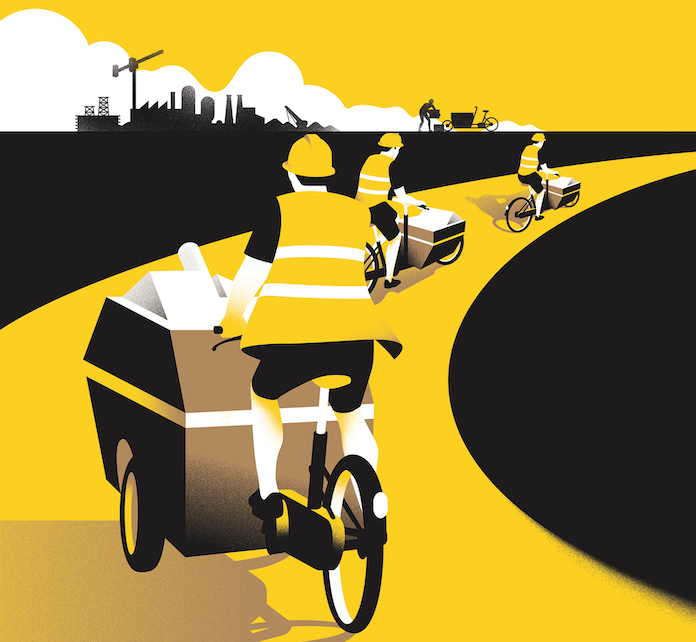 Illustration: Michele Marconi
At first glance, the humble bicycle may not look like the best bet for reducing emissions generated by deliveries to construction sites. But more contractors are starting to trial specially adapted, electronically assisted e-cargo bikes for delivery of small items. Can they seriously replace vans and trucks for city-centre construction deliveries? Neil Gerrard investigates
"Every time I see an adult on a bicycle, I no longer despair for the future of the human race," author HG Wells is reputed to have said. But even one of Britain's foremost science fiction writers could scarcely have predicted that one day the humble machine could be adapted to ferry hundreds of kilograms worth of equipment backwards and forwards to construction sites.
And yet that's exactly what has started to happen on some projects in the capital, as the mayor of London and Transport for London look for ways to fulfil an ambition to make the city 'zero carbon' by 2030.
Already, Transport for London has helped to arrange over 100 deliveries to sites including Crossrail, Tideway and HS2, with the involvement of contractors like FM Conway, Mace, and Morgan Sindall, explains Michael Barratt, TfL's development impact assessment manager.
Barratt's job is to find innovation and efficiencies on construction projects within the M25, collaborating with councils, communities and industries. A keen advocate of e-cargo bikes, he liaises with contractors and introduces them to companies such as passenger and cargo service PedalMe and zero-emissions logistics operator Zedify to see how suitable materials – lighting, hand tools, signage, bolts, nuts and screws to name just a few – could be transported to their sites around the capital.
The bikes themselves vary, some offering a loading bed in front of the rider, and some carrying a trailer behind. Assisted by electric motors that typically offer around 250W of extra power to the rider, power delivery is governed by how hard the rider pushes the pedals. The bikes can generally carry up to 150kg, although certain models like Urban Arrow's three-wheeled Tender can carry up to 250-300kg. They are usually speed-limited to 14-15mph, at which point the power assistance cuts out.
Barratt approached FM Conway after he heard that the firm was working on phase two of the Illuminated River project, which involves fitting LED lights to five London bridges.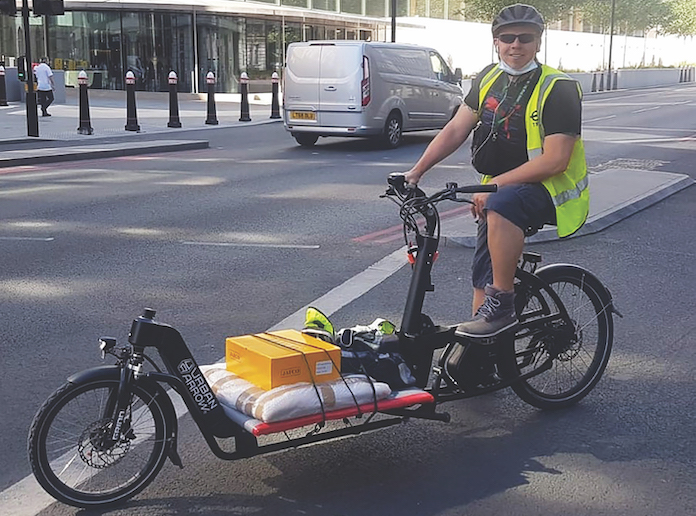 TfL's Michael Barratt rides an Urban Arrow e-cargo bike
Originally, FM Conway had planned for materials and equipment to be delivered by van. However, TfL raised the benefits of e-cargo bikes because it is attempting to implement London mayor Sadiq Khan's ambition to reduce the number of lorries and vans entering central London in the morning peak by 10% by 2026.
"I asked FM Conway if they had considered making deliveries by bikes and they didn't think it was possible, but the C3 cycle lane runs right along the Thames and so we got the conversation going," explains Barratt. Another e-bike firm, Fully Charged, loaned three bikes to the project and Barratt began examining what sort of materials could be loaded onto them.
FM Conway workers underwent trials and training to ride a loaded bike and Adam Barnes, senior contract manager at FM Conway, says the process was easier than he expected: "As a cyclist with average experience, I was initially hesitant to ride the cargo bike. However, I was quickly reassured," he says.
"As soon as I got on the bike to do some practice laps of our yard in Southwark, I quickly realised the ease of riding with the use of the electric assist motor on the bike. As to be expected, you must be aware of the slightly larger frame of the bike, but the handling and engineering of the bike make it very user-friendly. The ride itself really demonstrated the flexibility and capability of the bikes in terms of being used for general logistics within the construction industry.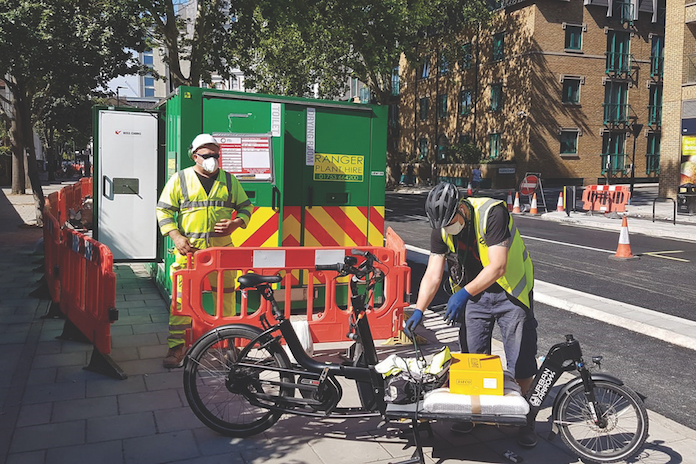 Small items can be easily loaded onto the bike for flexible delivery stops
"With the use of TfL's cycle highways and local quiet way route, before we even knew it we had arrived at our first destination, Blackfriars Bridge. The ride was very easy; it felt comfortable and safe even when encountering some unforeseen highway works on the route.
"Being on the ride has really given me a better perspective for the use of cargo bikes from both the view of the rider and the operational potential within the industry. I am now more motivated than ever to incorporate their use into our site logistics model within central London and further investigate their use in site operations in other areas of the business."
FM Conway has since gone on to purchase three e-cargo bikes and Barratt is pleased that the trial appears to have been a success. Although in most cases, he wouldn't expect contractors to own and operate bikes themselves. "Ideally the goal is to get contractors involved but I can see that you would generally contract it out," he says. "It would make more sense for a lot of companies because they don't want extra fleet to manage themselves, they would rather just pay someone else to do the work."
Barratt is aware that concerns around safety, both for operators and members of the public, are key for contractors, and in addition to producing risk assessment for the firms he collaborates with, he has been working with the Metropolitan Police's cycle safety team to work on guidance around the height of load, so that riders can see the road properly, and on a limit to the bike's motor capacity.
And he is confident that the machines will be attractive to construction because of the potential cost savings involved. He cites the example of a custom-made workbench weighing 130kg that was delivered to Crossrail that would have cost £100 to deliver by van but was £35 by e-cargo bike, transported in a trailer in just one load.
Other contractors like Mace and demolition firm JF Hunt are now also getting involved in trialling the bikes, and TfL is working on a guidance document to explain the dynamics of the bikes, when they are best used, and their benefits, along with case studies, which is due to be published shortly.
Barratt is convinced that while they will never completely replace other modes of transport, e-cargo bikes will provide a rapid, cost-effective and environmentally friendly alternative to many van deliveries. "We want to get to a point where e-cargo bikes are included in the tender in the same way as Construction Logistics and Community Safety (CLOCS) or the Fleet Operator Recognition Scheme (FORS)," he says.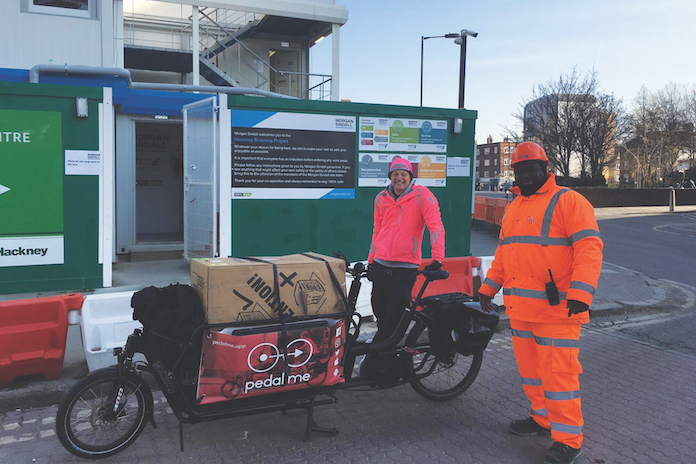 A PedalMe bike delivery at Morgan Sindall's site in Hackney
E-cargo bikes deliver for Morgan Sindall: Same-day deliveries even during the pandemic
In partnership with TfL, e-cargo bikes have been used to deliver tools, plant and PPE to the £384m New Britannia Leisure Centre and Academy in London's Hackney, where Morgan Sindall is the main contractor, and subcontractor O'Neill & Brennan is delivering the logistics package.
O'Neill & Brennan operations manager Barry Walker explains that PedalMe bikes were used to transport paint, timber, screws, plant, vacuums, small tools, PPE and signage. A dedicated e-cargo bike loading bay was even set up on the site.
"I was very surprised by the vast amounts that they can store and carry," he says. "I think cost-wise for certain items (welfare in particular), they haven't been as efficient on value due to a large number of our suppliers offering free delivery with their orders, but I feel that the more we use them, the more efficient deliveries will be, especially with multiple products being collected on one delivery, which is allowing us to add greater value against the cost.
"We have certainly seen savings on deliveries of paint, timber, screws and plant, which tend to have larger delivery costs."
Walker remarked that the speed of delivery has also been impressive. "During covid-19 the e-cargo bikes have been of huge assistance. While a lot of suppliers furloughed staff, we were able to get emergency items delivered same day."
Having trialled the bikes with the help of TfL, Walker is also optimistic that they will be used more in the future.
"We are currently in talks to purchase a cargo bike for New Britannia and also another project in the Vauxhall area. Once purchased, we are planning on putting one of our operatives through Cargo Bike Training so that we can use the cargo bike to collect and deliver products and materials to the project on a full-time basis.
"This service being supplied by our client means that all subcontractors can use and book cargo bike deliveries throughout the project," he says.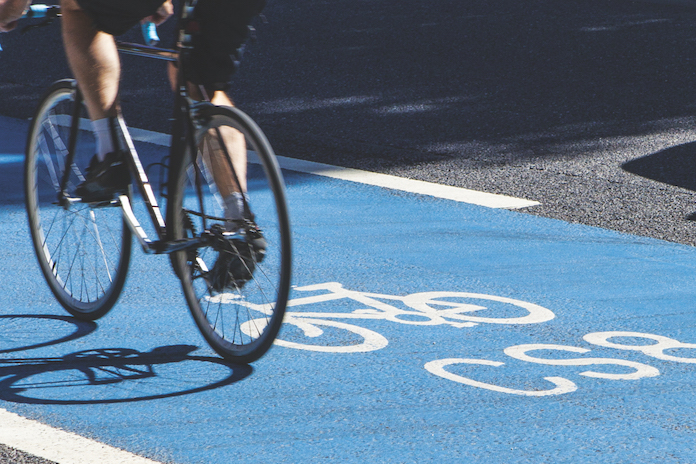 Construction professionals demand wider cycle lane network: Bike Lines London is calling for dedicated routes
A group of construction professionals is calling on mayor of London Sadiq Khan to create a network of dedicated cycle lanes connecting local neighbourhoods to the city centre, as a means of getting people in the capital back to work safely amid the coronavirus pandemic.
The Bike Lines London group is made up of architects, engineers and contractors, all of whom are members of Club Peloton, a charity and community of cyclists.
Following the coronavirus lockdown, Khan announced that commuters would experience an 85% reduction in capacity on the transport network, while the mayor of London has an ambition for a 'Zero Carbon London' by 2030.
The Bike Lines London routes would turn roads into safe thoroughfares open only to bikes, public transport and emergency and delivery vehicles.
Chris Dyson, architect and member of Bike Lines London, which in June wrote an open letter to Khan about the scheme, said: "Our group came together not only because we are all keen cyclists but because we care about our environment. Those who design and build our city have an important role in helping to shape a healthier, more sustainable future for it.
"Our day-to-day jobs see us shape our towns and cities and we understand all the constraints, challenges and issues facing stakeholders. The plan we have suggested to Sadiq Khan in our letter is brave, but it is vital to help London to recover from the pandemic and make the city a better place for all those who visit, live and work here."
Meanwhile, the UK's biggest construction professional bodies have written to local authorities across Britain urging them to sign up to the Construction Logistics and Community Safety (CLOCS) construction vehicle safety scheme. In 2018 there were 5,517 people killed or injured by vehicles used in construction, many of them cyclists.
The Chartered Institute of Building (CIOB), the Institute of Civil Engineers, the Association for Project Safety, the Royal Town Planning Institute and Build UK are all backing the campaign. The CIOB warned that accidents involving construction vehicles was likely to grow, especially since the publication of Boris Johnson's cycling and walking strategy in response to the transport challenges posed by covid-19.
Caroline Gumble, CEO of the CIOB, said: "The CIOB has long supported the CLOCS campaign, a collaborative effort with construction industry partners to save lives and support community safety."
Register for free and continue reading
This is not a first step towards a paywall. We need readers to register with us to help sustain creation of quality editorial content on Construction Management. Registering also means you can manage your own CPDs, comments, newsletter sign-ups and privacy settings. Thank you.